TAIKOPROJECT New Mexico Tour 2017
...and Taiko workshops!
Workshops hosted by BK Taiko
Saturday, September 30 - Albuquerque, NM
Learn Omiyage
10yrs & up
(2 hours - $55
1-3pm
Omiyage was written by Shoji Kameda and refers to the traditional Japanese custom of gift-giving. Omiyage is a celebration of the love of taiko, the excitement of seeing taiko for the first time, and the open, sharing attitude that is North American Taiko.
This piece uses Chu, Okedo, Shime, and ODaiko.
Learn Chappa, Atarigane, and Shaker
10yrs & up
2 hours - $45
3:30pm – 5:30pm
This workshop will teach basics of these Taiko percussion instruments.
These workshops are geared for people with at least 1 year taiko experience. Please bring your percussion if you have them.
TAIKOPROJECT Performances
Friday, Sept. 29, 7 pm - Farmington, NM
Silhouette Series, Henderson Center, San Juan College
www.sanjuancollege.edu/community/departments/henderson-theatre/silhouette-series/
Monday, Oct. 2, 7 pm - Hobbs, NM
Tydings Auditorium, Southwest Symphony
www.swsymphony.org/schedule.php
Friday, Oct. 6, 7 pm - Socorro, NM
Macey Center, NM Tech
nmtpas.org/current-season/subscription-season1/taiko-project
Saturday, Oct. 7, 7 pm - Silver City, NM
Fine Arts Center Theatre, WNMU
wnmu.edu/locations/fine-arts-center-theatre-2/
TAIKOPROJECT was founded in 2000 in Los Angeles, California by a group of young, emerging taiko drummers. They were seeking to create a truly American style of taiko, blending traditional forms in which they were raised, with an innovative and fresh approach to the Japanese drum.
TAIKOPROJECT first made waves when they became the first American taiko group to win the prestigious Tokyo International Taiko Contest in 2005, besting all of the Japanese taiko groups in the competition. That year, they were cast in the Mitsubishi Eclipse commercial, the first and still only national advertising campaign to prominently feature taiko.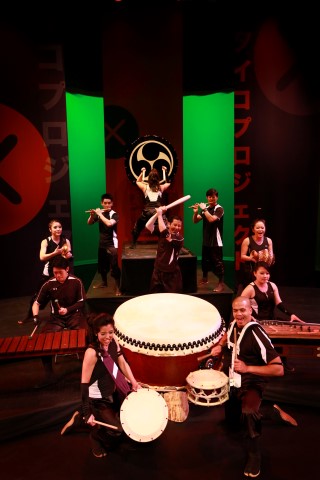 Since then, the group has performed on the Academy Awards, the Grammy Awards, NBC's "The Voice,"Syfy's Face/Off, The X-Factor, rock band 30 Seconds to Mars' "Up in the Air" music video, Conan, Jimmy Kimmel Live, the iHeartRadio Music Festival, and were honored with the prestigious Visionary Award from East West Players.
TAIKOPROJECT has performed and recorded with some of the world's most well-known musical artists, including Stevie Wonder, Usher, Alicia Keys, A.R. Rahman, John Legend, Kanye West, producer Squeak E. Clean, Sean Paul, Diplo, as well as international stars such as Greek singer Antonis Remos, Persian singer Mansour, Brazilian drumming group Olodum, and Netherlands' Tiesto.
In 2014, they were featured on Ovation TV's critically-acclaimed series "The Art Of" and in Reggie Watts' Halftime Show on The Late Late Show with James Corden. In 2016, TAIKOPROJECT collaborated with Grammy-winning Chicano rock band Quetzal to reopen the new Ford Theatres, trained with kabuki expert David Furumoto, and collaborated with KODO's Chieko Kojima. In 2017, they will tour across the nation multiple times and are currently appearing in commercials for Food Network's Iron Chef Gauntlet.
TAIKOPROJECT programs are made possible in part by funding from the National Endowment for the Arts, the Los Angeles County Arts Commission, the City of Los Angeles, Department of Cultural Affairs, the MAP Fund (Creative Capital), the Japan Foundation, the Sansei Legacy Fund, the Toyota Giving Circle, AAPIP (Asian American/Pacific Islanders in Philanthropy), the Union Bank Foundation, as well as our annual BaseBeat donors.